Skip to Content
Dr. Dave's Green "Friendly" Dog Boarding Facility in Saratoga & Campbell Areas
Boarding your pet is a wonderful way to enjoy time spent out of town without worrying about the wellness of your four-legged family member. At Dr. Dave's Daycare, Grooming & Boarding, we take pride in the quality of care and attention your dog will receive while staying at our green, pet-friendly dog hotel in San Jose.
Our Dedication to a Green and Pet-Friendly Dog Boarding Facility
Dr. Dave's Daycare, Grooming & Boarding is committed to providing a healthy, happy, and safe dog boarding environment for your furry companion. We are also dedicated to ensuring our pet kennels are cleaned and maintained in a way that is sustainable and friendly for our local and global environment.
Dr. Dave's is cleaned and sanitized daily with a commercial high-temperature dry steam vapor machine, which reaches a temperature of 330 degrees Fahrenheit. This is the fastest and most effective chemical-free, hypoallergenic, and 100% environmentally-safe method of cleaning available.
High-temperature steam cleaning destroys germs, viruses, molds, and bacteria, making it the best solution to create a sterile, healthy, and comfortable environment for your doggy while he boards with us.
The use of steam cleaning machinery allows our staff to clean every inch of our pet boarding facility, including tiny crevices and tight spots that other cleaning methods may miss.
Harsh manmade cleaning chemicals are not only an environmental concern, they can also cause discomfort and allergies in dogs, who have a keen sense of smell. Steam cleaning eliminates the need for chemicals to protect the environment and create a space that is easier on your dog's delicate nose.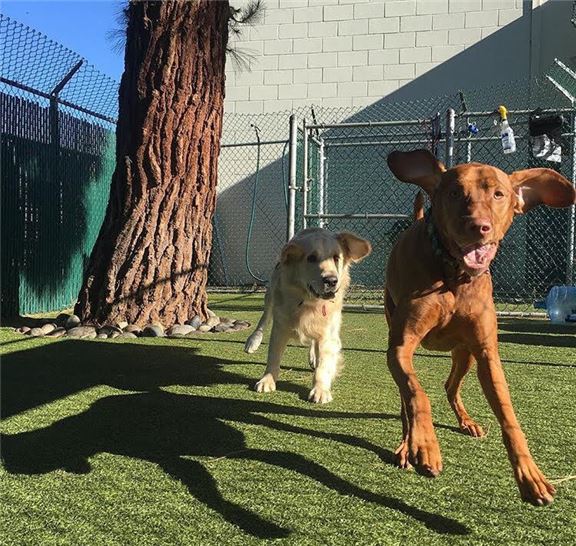 The Importance of a Clean Doggy Day Care Facility
When you choose a dog daycare facility to care for your pet while you are away, you want to know that it provides a clean and healthy place for your dog to live and play. You can reach Dr. Dave's Daycare, Grooming & Boarding by phone at 408-647-2774 for more information about pet boarding and our dog sitting rates.
A clean dog hotel reduces the risk of exposure to bacteria or viruses during your pet's stay.
Regular cleaning ensures your pet hotel provides a safe environment for daily play.
Clean conditions are simply more comfortable for your pet, helping him to feel safe and at home at his pet hotel.
Green Doggy Daycare
While Dr. Dave's Daycare, Grooming & Boarding prides itself on green cleaning methods that are healthier for the environment and your dog, we do require the use of some chemicals when spot cleaning our doggy daycare. These chemicals are managed responsibly to create a healthy and sterile home for your pet during dog boarding in San Jose.
We Treat Your Pet as if They Were Our Own!