Skip to Content
Pet Daycare Prices
Vaccines required for Dogs: DHLPP, Bordatella, Rabies, & K9 Influenza
Pet Daycare
| | |
| --- | --- |
| Half Day | $38.00 |
| Full Day | $61.00 |
| Grooming Daycare Rate | $30.00 |
| 2 Dog Full Day | $55.00 (per dog) |
Evaluations:
Campbell: Sunday – Wednesday (10AM – 2PM) Every Hour
Saratoga: Monday and Tuesday – Evaluations start at 11:00AM
Please Note
Evaluations are free
A half day is five hours or less
Daycare packages never expire
Late check-out fee of $30 on day of departure will be applied if pet is picked up after 12:00 noon. Any pet Picked Up After Regular Business Hours Will Incur an Additional $30 after hours Fee.
Pet Daycare Packages
| | |
| --- | --- |
| 10 Half Days | $350.00 (8% OFF, $35/day) |
| 20 Half Days | $650.00 (15% OFF, $32.30/day) |
| 30 Half Days | $900.00 (20% OFF, $30/day) |
| 10 Full Day | $550.00 (10% OFF, $55/day) |
| 20 FullDays | $950.00 (23% OFF, $47.50/day) |
| 30 Full Days | $1200.00 (35% OFF, $40/day) |
If you plan on bringing your pup to daycare often, save with our daycare packages — they never expire!
Dogs Need an Evaluation to Be Included in Our Program
All dogs in our daycare and playgroup program must first pass a one-hour temperament evaluation. During this assessment, our staff will observe your dog's communication skills, stress levels in an unfamiliar environment, and note any signs of aggressive behavior. Evaluations are free and are offered by appointment Sunday through Wednesday between 10 a.m. and 2 p.m. every hour at our Campbell location, and Monday and Tuesday beginning at 11 a.m. You will also need to bring proof of your dog's vaccinations to ensure they are up-to-date with DHLPP (Distemper, Hepatitis, Leptospirosis, Parainfluenza, and Parvovirus), Bordetella, Rabies, and Canine Influenza. Please contact us to schedule an appointment for your dog's evaluation at your earliest convenience. We want to ensure your dog is a good fit with our daycare before they begin spending half- or full-days with us!
Pet Owners Love Our Affordable Pet Daycare Prices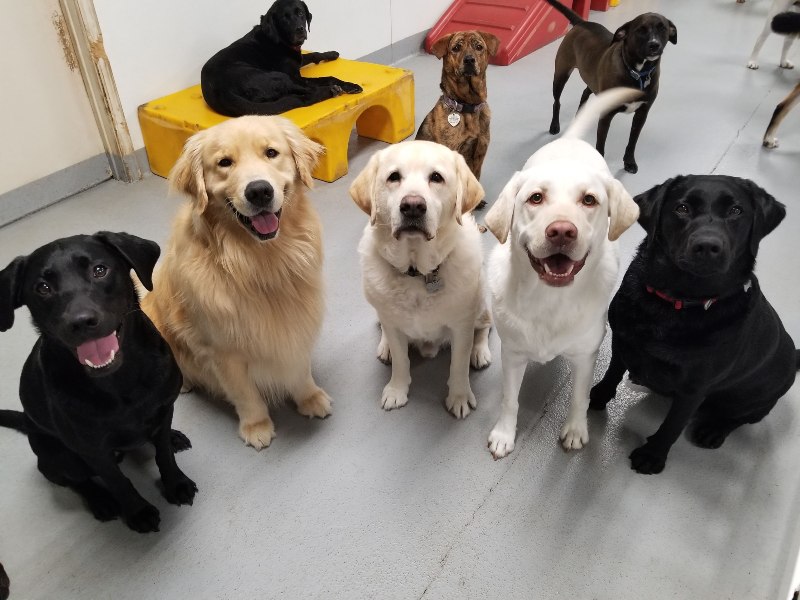 Dr. Dave's Doggy Daycare, Boarding & Grooming is a name synonymous with caring, attentive pet daycare at affordable prices. We're so much more than your average dog sitting service. We take the time to get to know each dog personally to focus on enriching their life mentally, socially, and physically while under our care. We give dogs the opportunity to feel they're part of a "pack" in a safe, monitored environment with plenty of daily exercise and playtime. Our pet daycare is open every day of the week with 24/7 access to the team of veterinarians at Reed Animal Hospital should your pet require medical attention. If you're curious about our pet daycare or dog boarding costs, please reach out to us today. A member of our staff would be more than happy to assist you in making reservations or to answer any questions you may have concerning our dog boarding rates per day!
What's Included in Dr. Dave's Pet Daycare Services?
At Dr. Dave's Doggy Daycare, Boarding & Grooming, you can expect all-day doggy daycare services, even on weekends, in a climate-controlled facility to guarantee your pet's comfort and safety. Vigilant housekeeping services ensure the cleanliness of our environment. Your dog will be taken outside for walks and play sessions at least three to four times a day. Our staff can also administer oral and topical medications and oversee your pet's dietary concerns at no additional charge
Pet Daycare Pricing with Packages Available
Our pet daycare services are offered seven days a week (Campbell Location) at the rate of $38 per half-day or $61 per full day. (Saratoga is open Monday – Friday) The grooming daycare rate is $30. If you have two dogs requiring a full day, the cost is $55 per dog. A half-day is considered anything less than five hours. We also have a drop 'n' shop rate available at $18.50 for two hours or less. Late check-out fee of $30 on day of departure will be applied if the pet is picked up after 12:00 noon. If you need to pick up your dog after-hours (Campbell: Monday -Friday after 7:30 p.m. or Saturday-Sunday after 5 p.m. Saratoga: Monday – Friday after 5:00 p.m.), there will be an additional $30 per dog charge. We also have daycare packages available, which never expire so you can use them whenever you want.
We Treat Your Pet as if They Were Our Own!