Skip to Content
Grooming Between Appointments
Tips for Grooming Between Appointments
Regular grooming is essential for the health and comfort of your pet, regardless of breed or length of coat. At Dr. Dave's Daycare, Grooming & Boarding, our dedicated and caring staff is pleased to offer professional grooming in Campbell and Saratoga to keep your furry companion clean, healthy, and looking his or her best.
All Dogs Need Grooming
While many pet owners know the importance of good grooming for long-haired breeds, short-haired pets are often overlooked. However, the truth is that all dog breeds need regular grooming, including short-haired dogs.
Pet grooming provides all dogs with the assistance they need to prevent the uncomfortable consequences of poor coat maintenance, which include matted fur, fecal impactions, and eye and ear infections.
Long-haired dogs are most likely to develop fur mats and other problems; these dogs require careful and thorough grooming to keep their fur clean and prevent tangles.
Short-haired dogs can be prone to excessive shedding without proper coat care; regular grooming and coat care can minimize shedding for a healthier dog and a cleaner home.
Double-coated breeds such as Huskies, Pomeranians, Golden Retrievers, and Chows need grooming services to help remove their undercoat, allowing the skin to breathe and reducing mats and tangles.
Wire-coated or broken-coated dog breeds are even susceptible prone to matting; these dogs need both regular bathing and trims for a healthy coat.
Hairless breeds require regular bathing and grooming to promote healthy skin and pores, which prevents skin irritation and infections for comfort and health.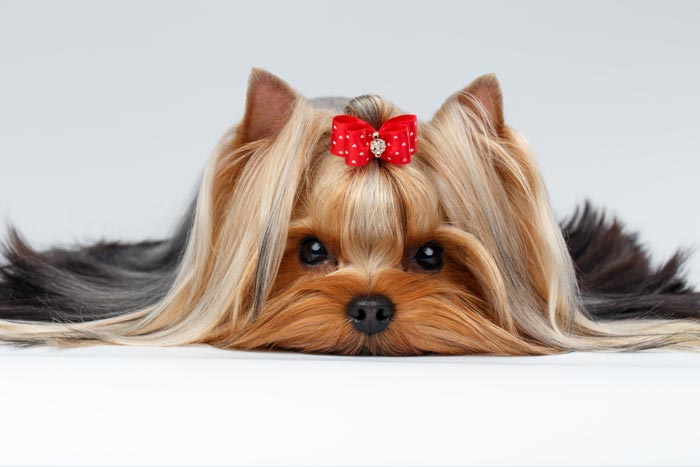 Maintaining Your Dog's Coat Between Grooming Appointments
Regular professional grooming is the key to a healthy and beautiful pet. There are several pet grooming tasks you can perform at home between grooming appointments to maintain your pet's fur and health.
Brush your dog daily with a bristle brush to remove dead hair, exfoliate the skin, and stimulate the production of natural oils to protect their skin and coat.
Clean your dog's ears once a week to prevent yeast infections and other types of ear infections.
Dental hygiene is important for your dog—brush your dog's teeth regularly with a pet toothbrushing kit to reduce bad breath and promote healthy teeth and gums for comfort and overall health.
During grooming activities, check your dog's coat and skin for any changes, including wounds or lumps; if you notice an area of concern, address it promptly with your vet.
All Your Grooming Care Needs
Maintaining your dog's skin and coat will improve his health, longevity, and quality of life. Please call Dr. Dave's Daycare, Boarding & Grooming in Campbell at 408-520-4902 or Dr. Dave's Saratoga at 408-647-2774 for more information about pet grooming, dog boarding, and pet sitting services in San Jose and Saratoga.
We Treat Your Pet as if They Were Our Own!