Skip to Content
Questions About Our Campbell & Saratoga, CA Dog Daycare?
Imagine a place where your dog can romp around and make new friends in a safe, clean environment while you're at work or on vacation. If you're searching for the best dog daycare in the Campbell or Saratoga, CA area, look no further than Dr. Dave's Doggy Daycare, Boarding & Grooming. We have separate daycare areas for dogs of all sizes, ages, temperaments, and energy levels. There's never any breed discrimination here, and a licensed veterinarian is available 24 hours a day. Below, we've answered frequently asked questions from new clients. Feel free to reach out to us with any additional questions or concerns, and our friendly, knowledgeable staff would be happy to help.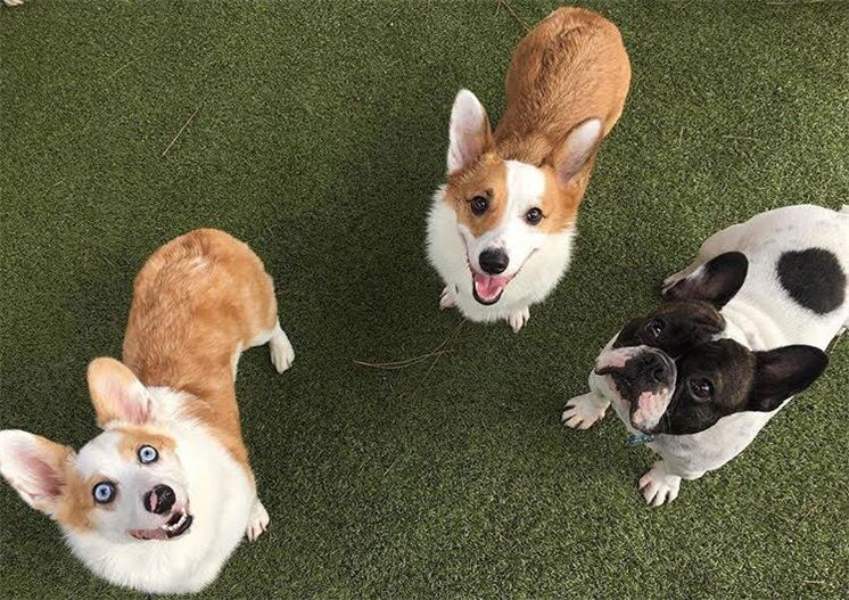 What Is Dog Daycare? Is It Different From Dog-Sitting?
A dog daycare is a place where you can drop off your dog for the day and not worry about his or her safety or well-being. Dog daycare goes beyond mere dog-sitting services. Your dog will have the chance to play and interact with other dogs in a clean, well-supervised facility. Our doggy daycare is all about play, play, play. Dogs are paired with other dogs of the same size and temperament in spacious off-leash play areas where they can romp around to their hearts' content. Daycare life consists of group play as well as individual walks and staff attention. We have secure indoor and outdoor play areas.
What Are the Benefits of Dog Daycare Services?
Aside from the convenience they offer pet owners who need to be away from their dogs, dog daycare services provide excellent exercise and socialization opportunities for dogs. Dogs are pack animals and prefer to be around other dogs instead of cooped up inside all day on their own. Animal behaviorists encourage exposing dogs to a variety of people and animals to improve their quality of life and socialization skills. Your dog will love making new pals and being part of our playgroups!
Why Does My Dog Need a Daycare Evaluation?
Dr. Dave's Doggy Daycare requires every dog to pass a one-hour temperament evaluation before being invited to join our playgroup. During this evaluation, our staff assesses your dog's stress levels in an unfamiliar environment and communication skills while watching for any aggressive or problematic behaviors. We never charge for these evaluations, and if your dog passes, you're encouraged to make daycare appointments at your earliest convenience. For everyone's safety, we want to make sure every dog is a good fit with our daycare before welcoming them to spend half or full days with us.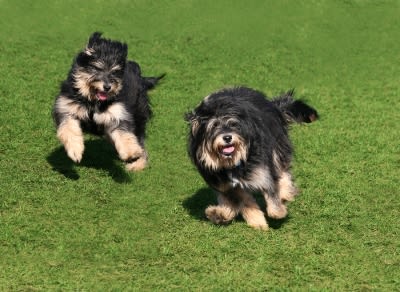 Do You Offer Discounts for More Than One Dog?
Our doggy daycare prices are competitive at Dr. Dave's Doggy Daycare. Daycare discount packages are available if you have more than one dog. Our daycare packages never expire, so you can use them whenever!
Does My Dog Need to Be Vaccinated for Doggy Daycare?
Yes. If you're a new client, please make sure Dr. Dave's Doggy Daycare, Boarding & Grooming has a copy of your dog's up-to-date vaccination records, including DHLPP (Distemper, Hepatitis, Parainfluenza, and Parvovirus), Bordetella, Rabies, and Canine Influenza. Please be sure to bring proof of vaccinations to your initial evaluation appointment.
How Often Is the Doggy Daycare Facility Cleaned?
Our doggy daycare facilities in Campbell and Saratoga, CA have daily housekeeping staff to ensure their cleanliness. Our pet boarding accommodations also feature direct plumbing for a sanitary, odor-free environment. You can rest assured our state-of-the-art facilities are kept clean for your pet's comfort.
Are the Dogs Walked While at Dr. Dave's Doggy Daycare?
Yes. Dogs are walked at least 3-4 times a day while at our dog daycare facilities. Our staff is fully versed in canine behavior and trained to provide everything your dog needs to remain happy and healthy.
Will You Feed My Dog During Their Stay at Your Facility?
All dogs whose human companions have provided their lunch or treats will be allowed to eat them and relax outside of the daycare because everyone needs a break from socializing every once in a while! Once they've finished their food, all doggy diners will be sent back into the daycare to rejoin in the fun. Dogs being boarded overnight are served dinner in their assigned rooms. We provide special meal preparation beyond basic dry or canned food with simple add-ins upon request.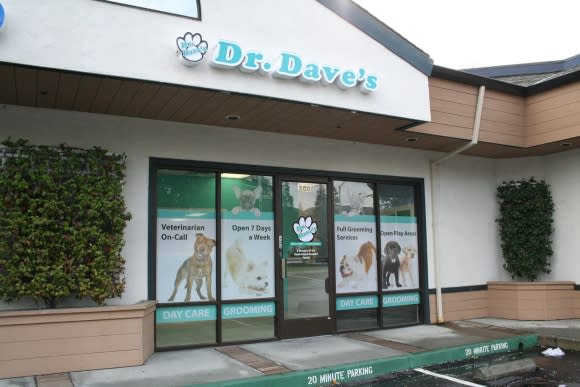 Why Should You Choose Dr. Dave's Doggy Daycare?
At Dr. Dave's Doggy Daycare, Boarding & Grooming, we care for your dogs as if they were our own pets. We have caring staff and veterinarian available 24 hours a day, 7 days a week. Should a medical issue ever arise during your pet's stay, our close partnership with nearby Reed Animal Hospital ensures access to a full-time vet to evaluate and treat your dog as needed (with your permission, of course). Our state-of-the-art doggy daycare facilities are climate-controlled with direct plumbing to offer a comfortable, sanitary environment. We'll give your dog the one-on-one attention and love they crave while also allowing them to roam around with their new pals. To learn more about what sets us apart from other dog daycare services in the Campbell and Saratoga, CA area, we urge you to contact us or check out our client testimonials. We love what we do, and it shows!
We Treat Your Pet as if They Were Our Own!