Skip to Content
Meet the Trainer
Andrea Woo is a highly experienced dog trainer who is a professional member of the Association of Professional Dog Trainers and who has received her ABCDT certification through Animal Behavior College. She first dedicated herself to working with the Hearing Dog Program in California, fostering and training dogs to perform tasks for the deaf. In addition, Andrea specialized in skills training to help those in need of service dog assistance, or who wished to have their pet dog perform functional tasks.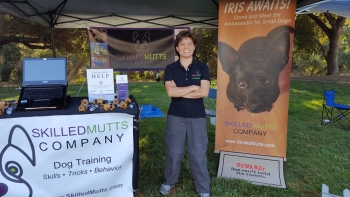 Years of Experience
Andrea has also donated her time to working with and training shelter dogs at the Humane Society of Silicon Valley and can be found on their referral list of dog trainers. Andrea attends professional dog training conferences and courses to keep herself up to date with the latest in training methods and theories.
Andrea's experience with pets doesn't stop there – when she is not training, she spends her free time exploring the outdoors with her dogs, Iris and Mason.
I think my dog is in love with Andrea! After meeting her for the first time, he followed her out to her car and wouldn't come back! So far we've had just one private lesson and already we are enjoying it. My dog quickly responded to Andrea's techniques. She did a wonderful job coaching my husband and I. Andrea is also adaptable with the training plan and easy to talk to.
I knew it was time to get outside help when my dog started to growl and snap at visitors. Andrea was fantastic in helping him overcome his everyday fears. She was calm and patient in teaching both my dog how to deal with his anxieties. He is calm enough now to listen to commands and leaves outside distractions alone and can focus on me instead.
Andrea showed a very good understanding of dog training principles. She easily applied abstract learning theory to practical life and taught us very quickly but without causing confusion. Andrea remained mindful of the big picture while paying attention to important details at the same time.
We Treat Your Pet as if They Were Our Own!