Skip to Content
Tips for First Time Dog Boarders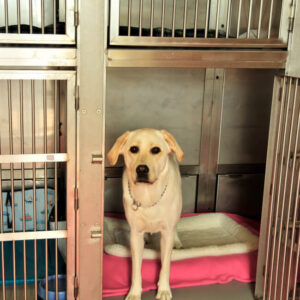 For first time dog boarders, leaving a beloved pet can be emotional and stressful. It's hard to enjoy your vacation if you're worried about whether your dog will be happy, safe, and cared for properly. How can you make sure both you and your pet have an amazing experience? It starts with doing your research to find the best facility for your dog. Here are some tips for first time boarders, to help keep you and your dog stress-free throughout the experience.
Find the right fit. Each pet is unique, and the boarding facility that is right for one might not be best for another. Do your homework, keeping your pet's needs in mind, and look for a facility with good reviews and services your pet needs. A high energy dog needs a facility with daycare and enrichment services, while a dog with severe health issues will need an onsite veterinarian. Once you've narrowed it down to a few options, tour the facilities, meet the staff, and ask plenty of questions.
Book your dog's stay in advance. High-quality facilities often fill up early, so for the best availability, book early. This is particularly important over a holiday.
Be honest about your dog. The boarding facility needs good information to be able to properly care for your dog while you're away. Be open and honest, letting them know about your pet's medical history and behavioral quirks. Let them know how your dog does on the leash, gets along with other dogs, and whether there are any health concerns to consider. Make sure your dog's vaccinations are up to date, because all boarding facilities require this.
Do a trial run at daycare. If you can try out daycare before leaving your dog, this will help you and your pet to become familiar with the facility and staff. It also helps the staff get to know your dog. The dog will feel more comfortable knowing the daily routine and that you'll be coming back.
Know what to pack. Facilities vary in what they provide for your dog, so talk to the one you choose about what you should bring. Bring familiar food, so that your pet won't get an upset stomach while being boarded, and provide instructions for how to feed your dog. Ask if you can bring a favorite toy or blanket to help your pet feel at home, but be careful not to bring anything that could pose a choking hazard.
Opt for the upgrades. Most facilities will provide extra treats and activities to make your pet feel right at home. The first time your pet spends time away from you is the perfect time to spoil him with some extras! Talk to your facility about what is available.
Make sure all info is up to date. Your pet's medical history needs to be accurate, and so does your contact information. Provide an emergency contact, in case you can't be reached. Give the staff as many ways to contact you as possible, in case it is difficult to reach you while you're on vacation.
If you are looking for a fun, safe place to leave your dog, look to Dr. Dave's, where we'll give your dog the love and care they need and deserve. You want to give your dogs the very best care, and no matter what kind of care your pet needs, Dr. Dave's Doggy Daycare, Boarding, and Grooming is your one stop shop! Our staff full of pet lovers has extensive experience in the pet care industry, and we understand that your pets deserve the best of everything. If you don't want your dog to be lonely while you're away from home, our daycare services will provide socialization with other dogs and a staff that will pay special attention to your pet's needs. If you need to go out of town, we will keep your dog safe and happy, and we have a certified veterinarian available 24/7 in case of health care issues. Does your dog need grooming? We'll provide your pet with a spa day worthy of royalty. For more information about all the services we offer to dog lovers and their dogs, call 408-647-2774 in Saratoga or 408-520-4902 in Campbell.