Skip to Content
Be Aware of the Danger of River, Lake Water and Standing Water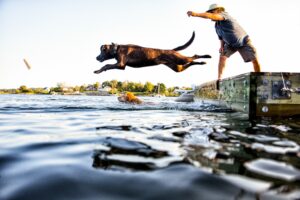 Some dogs are ambivalent about the water, but others love to splash and swim. If you've got dogs that falls into the latter category, you know it's hard to control their excitement around a body of water, because they want to jump right in! While there are locations where this is perfectly fine, like a dog friendly beach or your own backyard pool, you shouldn't just let your pooch take a dip anywhere there's water. One of the most important summer safety tips to remember is to be aware of the dangers posed by river water, lake water, and standing water.
Of course, even dog friendly beaches can be dangerous, not only because of the risk of drowning, but also because salt water can make your dogs sick if they drink it. In standing water, or a lake, pond, or river, however, the highest risk is water-borne diseases, caused by algae, parasites, and bacteria. For example, blue-green algae can be fatal if your dog swallows even a small amount of it, so one of the best safety tips for your pet is to avoid water that looks greenish-blue, olive green, or red.
You will also often find bacteria and parasites in lakes and ponds. Cryptosporidium, giardia, and leptospirosis are all common, and they can cause vomiting, abdominal pain, and intestinal upset. Lakes can also sometimes contain saltwater, and saltwater toxicity can cause vomiting, instability, and seizures, due to an electrolyte imbalance called hypernatremia. To combat this, bring along plenty of fresh water for your dog to drink while you are playing in the sun or relaxing on the beach.
Dogs can drown in lakes, obviously. However, blue-green algae, parasites, bacteria, and saltwater toxicity pose a greater threat/ That's because even inhaling a small amount of contaminated water can cause symptoms that vary in intensity from abdominal pain to death. Before you ever consider letting your dog play in a lake or pond, inspect it. Water that is cloudy, dirty, off-colored, or smells bad is not safe for swimming, either for dogs or people.
Another warning sign that can indicate a problem with a body of water is dead fish. If there are dead fish floating on the water, get your dog safely away from it. Then contact the owner, if possible, and if the water source is on municipal property, alert the proper authorities. The town or county can have the water tested, putting up a danger sign, if necessary, to keep people and animals from getting in the water and getting sick.
What if, for some reason, you are not sure whether your dog got into some contaminated water? Maybe your pet was with someone else or got away from you at a park. Whatever the reason, here are some symptoms to watch out for, categorized by the problem that causes them.
Blue-green Algae:

Algae in stool or vomit
Blood in urine
Convulsions
Diarrhea
Breathing issues or respiratory paralysis
Pale mucus membranes
Foaming at the mouth or excessive salivation
Jaundice
Lethargy
Loss of appetite
Muscle tremors or weakness
Seizures
Rigidity
Stumbling
Vomiting

Parasites or Bacteria:

Cryptosporidium

Dehydration
Fever
Nausea and vomiting
Stomach cramps
Diarrhea
Weight loss

Giardia

Dehydration
Diarrhea
Gas
Greasy stools
Stomach cramps
Nausea/vomiting, upset stomach

Leptospirosis

Abdominal pain
Chills
Diarrhea
Headache
Fever
Jaundice
Muscle aches
Red eyes
Rash
Vomiting

Saltwater:

Abnormal skin color
Altered state of consciousness
Confusion
Dry gums
Weakness
Diminished urination/inability to urinate
Lethargy
Muscle spasms
Rapid heartbeat
Seizure
Weight loss
If your dog has any of these symptoms and you think there may have been exposure to contaminated water, seek veterinary attention immediately. Your vet will stabilize your dog with IV fluids and oxygen, if necessary, then provide the right treatment to address the issue. For blue-green algae, anti-seizure medication and activated charcoal may be necessary. To determine the exact cause of the problem, your dog may need not only a complete physical examination but also laboratory tests like urinalysis, a fecal examination to look for parasites, chemistry profile, and a complete blood count (CBC). Your vet may also recommend x-rays or an ultrasound to rule out residual damage. Your dog's prognosis will depend on how much lake water was consumed and how quickly you got your dog to the vet.
You want to give your dogs the very best care, and no matter what kind of care your pet needs, Dr. Dave's Doggy Daycare, Boarding, and Grooming is your one stop shop! Our staff full of pet lovers has extensive experience in the pet care industry, and we understand that your pets deserve the best of everything. If you don't want your dog to be lonely while you're away from home, our daycare services will provide socialization with other dogs and a staff that will pay special attention to your pet's needs. If you need to go out of town, we will keep your dog safe and happy, and we have a certified veterinarian available 24/7 in case of health care issues. Does your dog need grooming? We'll provide your pet with a spa day worthy of royalty. For more information about all the services we offer to dog lovers and their dogs, call 408-868-5910 in Saratoga, 408-791-2532 in Campbell, or contact us through our website.